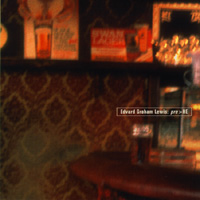 pre>HE
Edvard Graham Lewis
WMO 6CD
55 minutes

Track Listing: dolass violphin, front back & profile, he said argh!, lying in state, and fresh life.
released october 22 1996
this and other WMO releases are limited editions from the wire archive.
[ back ]
WMO is pleased to announce the release of its sixth cd of recordings from the wire archive. "pre>he" features previously unreleased material by e. graham lewis.
As a member of wire, wir and dome, graham needs no introduction. as well as releasing three solo albums, two for mute records as he said (hail! and take care) and one as h.a.l.o for the swedish label mnw zone (immanent), graham has also received commissions from dancer/choreographer michael clark and provided solo tracks for two ash international compilations: mesmer variations and a fault in the nothing. he recently turned his hand to djing in sweden, where graham lives with his wife and two children. with the members of omala, he is currently preparing a new he said album catch supposes for their origin label.
All the tracks are previously unreleased, except for "he said argh!" which was released by touch on the long unavailable meridians 1 cassette in may 1983. "lying in state" was recorded for "mu:ze:um traces", an audio-visual installation by graham, bruce gilbert and russell mills, held at the museum of modern art, oxford in december 1982 - january 1983. "fresh life" is an early version of grahamís "pump" track that was later developed for a he said single and the hail! album.
All five pieces on this cd were recorded by graham in 1983 using lo-fi analog equipment and are mostly instrumental. they encapsulate a transitional period in his search away from the more open-ended experimentation of his work with bruce gilbert in dome, cupol and pío, towards the song orientated he said and wire projects of the late 80ís. these recordings are essential listening for any graham lewis and wire fans.
---
"An exhumation of five, predominantly-instrumental tracks from 1983, pre>he shows former wire member lewis in lo-fi experimentation mode. still, it's a good record to piss off your neighbors with, and how many decade-and-a-half-old records can you say that about?"
dan epstein, option