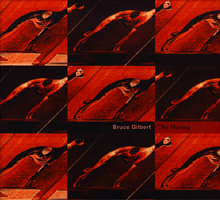 The Haring
Bruce Gilbert
WMO 5CDL
35 minutes

Track Listing: The Haring, Children.
released march 27 1997
this and other WMO releases are limited editions from the Wire archive.
[ back ]
WMO are proud to release another in their ongoing series of unique recordings. "the haring" has been a project of bruce gilbertís for some time and although his own voice has been used with wire, wir, dome, and on he said records, this is the first full solo album, a self described "audio/visual experience", allowing him to explore the medium of spoken word.
Also included on this cd is "children", a track originally released by touch on the "meridians 2" cassette in 1983 which features bruceís mother and father each re-telling an eerie story from their own childhood.
This cd release comes in a small box containing the cd and a number of specially produced items that bruce has designed and is strictly limited to 1000 copies. it is only available by mailorder.
---
As a founder member of wire, bruce gilbert needs no introduction. he has also collaborated with fellow wire member graham lewis in dome, pío and duet emmo, as well as with a.c. marias (angela conway).
His most recent activities include the beekeeper: the resident dj at the highly eclectic london disobey club; a collaboration album with mainís robert hampson and paul kendall entitled "orr"; live performances with robert poss and susan stenger (band of susans) as gilbertpossstenger; appearing on finnish techno group panasonicís john peel session and performing from inside a garden shed.
Bruce has recorded five solo albums for mute records, the most recent of which, "ab ovo", was released in march of 1996. he has also recently finished another solo album for the table of elements label in chicago called "aorial". two other recent released are the 7" singles "instant shed vol. 1" and "instant shed vol. 2" for the sub pop and ash international labels respectively.