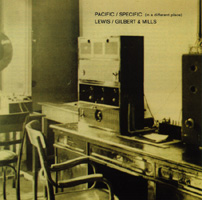 Pacific/Specific
Lewis/Gilbert & Mills
WMO 3CD
49 minutes

Track Listing: anchors, norde, quicken your step, mzui:australia.
released november 21 1995
this WMO item is out of print.
[ back ]
To mark the centenary of marconi's invention of the radio telegraph, wmo are pleased to announce the release of their second cd, lewis/gilbert & mills pacific/specific (in a different place). containing the complete radio works of graham lewis and bruce gilbert (wire, wir, dome, cupol, etc...), this cd couples the duo's 1980 peel session with mzui:australia a radio broadcast for radio jjj, sydney that was their belated contribution to the sydney beinnale.
The peel session (released by arrangement with bbc worldwide ltd.) contains three previously unavailable tracks, not heard since their original broadcast: anchors, norde and quicken your step. mzui:australia was recorded with artist/illustrator russell mills in london where they recorded their own section of the piece independently of each other. the master tape was then sent to sydney where it was mixed live-to-air and relayed back to london via satellite from where they were then interviewed. the sleeve notes contain edited highlights of the interview revealing their own working methods in creating the piece.
---
"A relic for all fans of experimental music by wire members. the "mzui" piece is an interesting kind of avant-garde industrial soundscape with radio noise, percussives and all manner of contorted sound. an interesting experiment."
Alan Freeman, Audion #39
"The furry beats warring it out under lewis' vocal on "anchors", the strange metallic rain and distanced bass of "norde", and the muted mutant fuzz-rock of "quicken your step" is exactly what you'd expect from the then (1980) experimental mindset in which gilbert and lewis were operating."
darren bergstein, i/e #10
"as a listening experience, rattling tea cups, folding cardboard and the latest city prices sound uninspired, unsophisticated and laughably unlistenable. horribly pretentious, mostly unlistenable."
dave henderson, q