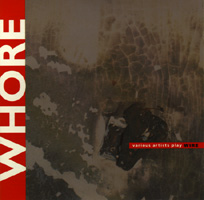 Whore
Various Artists Play Wire
WMO 2CD
75 minutes

Track Listing: three girl rhumba, lowdown, fragile, mannequin, 12xu, being sucked in again, outdoor miner, used to, a question of degree, on returning, the 15th, a mutual friend, map ref. 41n 93w, 40 versions, eastern standard, our swimmer, serious of snakes, ahead, it's a boy, german shepherds and eardrum buzz.
released february 26 1996
[<!a href="whore.htm" onMouseOver="window.status='whore artist info'; return true"> whore artists | back ]
wmo are proud to announce their third cd, containing exclusively recorded material for their whore project. ranging from metal to pop to electronica, the 21 artists recorded on this cd encapsulate the length and breadth of perhaps one of the most consistently influential and original bands of the past 20 years - wire.
the brief to all the artists was to reinterpret a wire song of their choice and to treat any aspect of "tribute" with the disrespect it deserves. in this way all of the 21 songs contain a suitably incongruous twist on wire's original material as well as pushing the artists themselves into a territory they may have not otherwise explored. as well as featuring well known and established artists, the whore project also contains a number who are making their recording debut, either as new bands or as bands specifically formed for this album. apart from the usual sleeve credits the cd booklet also contains short essays from many of the artists about wire, their influence and the choice of track they chose.
not only is this a must for all wire fans who wish to hear some new and fascinating interpretations of their material and for fans of the 21 artists themselves, whore is a document of contemporary music that is destined to be classic; spanning three decades of music from original innovators with that of some of the most exciting artists recording today. tracks recorded for the whore project span the entire depth of the wire catalog, tapping from every album released. along with original artwork the overall presentation is a visual and aural feast.
---
"finally, a tribute comp worth selling you body for."
christopher porter, alternative press
"whore comes over less as a tribute and more of an anthology with a theme. there's a disparate range of artists here, but crucially there's also evidence of some firm quality control; so while your favorite wire tunes might have been messed about a fair bit, it is generally with positive results. as a collection of reinterpreted wire songs, there is a common identity underpinning these often divergent styles, but it is also a collection in its own right, with a wide range of artists from the more marketable end of, er, alternative music."
Tom Ridge, The Wire
College Radio, Gavin Report<!a href="http://www.gavin.com/issues/iss19960503/charts/c.html"> #6
"a tribute album to wire which features an outstanding selection of 21 truly unconventional and ingenious artists from lo-fi to hi-fi, shoegazer to stargazer. check out this album and check out the liner notes as well, which were written by the artists about their close or not so close encounters with the wondrous wire."
Rachel Eskenazi, The Big Shout
"it would be hard to imagine a more intriguing and ultimately frustrating task than covering a song by wire, the artiest of english art bands and probably the most restrained and austere group to emerge from the original punk movement. yet the wire enthusiasts here do their best to keep the legacy alive with spirited covers that, even if they don't come close to the originals, at least demonstrate what wire might have sounded like if they weren't - well - if they weren't wire."
David Shirley, Option