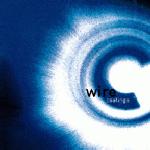 Coatings
Wire
WMO 14CD
70 minutes

Disk 1: ambulance chasers (original version), a serious of snakes (alternate mix), ambitious (alternate mix), madman's honey (alternate mix), kidney bingos (original mix), it's a boy (instrumental), german shepherds, boiling boy, drill, in vivo (club mix), who has nine?, it can't be true can it?, gravity worship.
Disk 2: ambitious (middlesex gorge remix)
this and other WMO releases are limited editions from the wire archive.
[ back ]
Whilst "turns and strokes" covered the period 1979-1980, "coatings" brings the wire archive collection up to date with studio material drawn from their time with mute records (1985-1990). all tracks, bar three, have been licensed from mute records, with the rest coming from a 1988 john peel session (courtesy of bbc worldwide music).
Starting in 1985, we have the previously unreleased studio version of "ambulance chasers" (a live version is available on "the ideal copy" cd) and an alternate mix of "a serious of snakes", both drawn from wire's first recording sessions for their "snakedrill" ep.
From "the ideal copy" album sessions we have alternate mixes of "ambitious" and "madman's honey". it is worth comparing the official released versions with these to realize how different they are.
A year later and wire were back in berlin to record "a bell is a cup until it is struck" album. the original mix of "kidney bingos" (only previously available on a melody maker cassette), along with a remix of "it's a boy" that has only appeared on the vinyl 12" single of "eardrum buzz" in 1989, are contained here.
In may 1988, on the eve of their second us tour, wire recorded three tracks for a bbc john peel session. along with "drill" and "boiling boy" we have, what is generally considered to be, the definitive version of "german shepherds".
Back in the uk, and prior to a brief jaunt to japan, wire recorded their next single "in vivo". although released as a 7", 12" and cd single, the version contained here was remixed by paul kendall for a 12" club mix promo.
Recorded in london with producer dave m. allen, the "manscape" sessions produced three extra tracks that have never been previously available in the uk: "who has nine?" and "gravity worship" were released in the us on the "life in the manscape" cd single, whilst "it can't be true can it?" was released with the latter two as a bonus cd for the japanese release of the "manscape" cd.
Disc 2 of this set, only available from wire mail order, contains the 18 minute remix of "ambitious" created by bruce gilbert, graham lewis and paul kendall for the world premiere of dancer/choreographer stephen petronio's "middlesex gorge" ballet at the queen elizabeth hall, london on 12th october 1990.
"Taken together, this 2cd set contains some of the most marginal pop songs put to disc by any group in the 80's. wire burnt fast and bright, as they had done in the 1970's, and proved that they were matchless at both sonic experimentation coupled with catchy hooks." extract ©1997 k.s. eden
---
This band was slammed unmercifully at the time for favoring mechanical aesthetics over rock 'n' roll noise and seemingly copping others' moves rather than mapping out new ones - Coatings is a handy reminder of just how forward-looking they really were, erecting signposts to the next phase of electro-organic sound.
nik rainey, lollipop