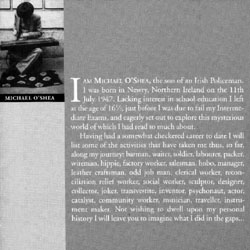 Michael O'Shea
WMO 12CD
60 minutes

Track Listing:No Journey's End, Kerry, Guitar No. 1 (take 1), Guitar No. 1 (take 2) Voices, Anfa Dasachtach; Seance of A Kondalike, A Dead Rose, Easter Island, Seance of A Kondalike (backing track), A Dead Rose (backing track)
released june 2001
<!a href="../gallery/index.htm">photo gallery | back
WMO are pleased to release the only known recordings of an extraordinary musical talent and personality. This CD reissue includes Michael O'Shea's eponymous album, a long lost obscure classic originally produced by Bruce Gilbert and Graham Lewis (Wire) for their Dome Records label in 1982. Bruce and Graham first became aware of this strange bohemian character when The The member Tom Johnston told them of a Covent Garden busker that they must meet. In fact, Tom and Matt Johnson were members of The The, whose first single, "Controversial Subject", they had produced.
Bruce and Graham witnessed Michael playing a home made instrument, which he called the Mo Cara. Michael had constructed it from an old wooden box over which he had stretched 17 strings and played using paintbrushes. The whole cymbeline-like instrument was then amplified and played through various foot-pedals to create its unique eerie sound. Over a period of time Bruce and Graham attempted to coerce Michael into Blackwing Studio in an attempt to capture his unique sound for posterity. Eventually Michael turned up and recorded the tracks that appear as five of the first six on this Compact Disc reissue. Also included is a previously unissued alternate take of "Guitar No.1".
Two tracks recorded with fellow Irish musician Stano (aka John Denver Stanley) that took place in Dublin in 1983, for Stano's "Content to Write in I Dine Weathercraft" LP follow on. 'Sťance of a Kondalike' feature the acoustic strains of the Mo Cara while Stano experiments with his vocals, screaming and screeching behind the Arabesque pattern of Michael's beautiful string tapping. The Eastern influence is also felt on the poignant 'A Dead Rose' where Michael plays both sitar and the Mo Cara. The backing tracks for the same two pieces appear here for the first time, never having previously been released. The remaining track on this CD is 'Easter Island', the title piece from a 5-track private released cassette by Larry Cosgrave, another Irish artist/musician/poet and long-term friend of Michael's.
In December 1991 Michael was tragically killed after stepping off a London bus into the path of an oncoming Post Office van. These recordings therefore remain a testament to Michael O'Shea's timeless music.