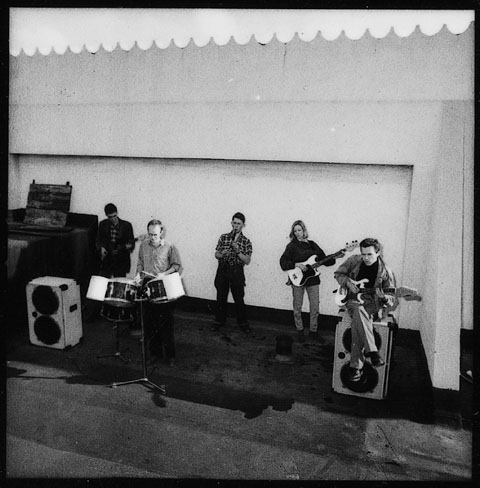 Whilst Climbing Thieves Vie For Attention
P'o
WMO 11CD
54 minutes

Track Listing: time and time, back and back, holy joe, earl, vanite, only one i, today's version, i will (full version), mhona, blind tim, crystal streams, zinc lasso (noose); back to back (alt.), vanite (alt.), today's version (alt.), mhona (alt.)
this and other WMO releases are limited editions from the wire archive.
[ back ]
WMO are proud to finally release a long lost classic from the extended wire family history. originally release in 1983 on their court label, the original vinyl release quickly sank without a trace and has since gained cult status amongst wire fans.
P'o (pronounced "poe") was formed by bruce gilbert and graham lewis (both ex-wire) as a reaction to all the studio work they had recorded and produced (cf. dome, cupol, duet emmo, desmond simmons, michael o'shea) over the previous three years.
An impromptu group was quickly assembled with angela conway (aka a.c. marias), peter price (drummer on dome 3), and artist david tidball. the original aim to perform live was scuppered when peter price announced his decision to emigrate to brazil. p'o hastily convened in blackwing studio and with the help of eric radcliffe recorded 12 tracks for their eponymous album.
Only ten of the tracks recorded made it to the original vinyl release. wmo is pleased to have unearthed the remaining two tracks: an early version of "only one i", later covered by graham on his he said "hail" album, and the instrumental "zinc lasso (noose)". also included on the cd reissue are four alternate mixes of tracks from the original album as well as the full length version of "i will", which was inexplicably edited on the vinyl release.
---
"Arty, angular... P'O was an interesting search for an avant-garde vocabulary, as the members of Wire introduced electronics to their guitar music."
Chris Twomey, Exclaim!
"I can't wait to hear this on cd!"
anonymous wire fan