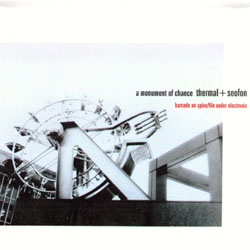 a monument of chance
thermal + seofon
thousand "spacefunk"
53 minutes

track listing: ouster swarm, application of buddhistic classics, a toy ascending the tidal current mixture, another tank farm by trolley

Thermal is Joshua Maremont of San Francisco, who began a recording existence as one half of M-1 Alternative, an experimental electronic rock group with three albums on the Boxman and C'est La Mort labels during 1988-1993. Joshua threaded the more atmospheric strands of this group for the solo Dazzle Painting, which mutated into Thermal as song structures and lyrics gave way to an interest in abstracted electronics. Thermal began performing in the chill-rooms of SF as one half of the live/DJ pair Freezer, and the activities of both have begun to be documented on the Boxman label, most recently on the "Time out of Mind" album.
After releasing a solo album on the Visible label, Bay Area-native Seofon joined the Ambient Temple of Imagination to produce its first two studio recordings, released on Silent Records, and went on to become a central player in the collective. A-TOI has since performed widely in chill-rooms and warehouses, documenting two of these live concerts on CD, the latest of which is "Planetary House Nation" on the Mindspore label.
Thermal and Seofon met at the first of these recorded A-TOI performances (released as "Eleusinia"), with their first collaboration occuring spontaneously before a large audience and lasting six hours. A more formal collaborative project was discussed, but it was only much later, in preparation for the "Planetary House Nation" concert, that the first two studio recordings were made, these becoming the first and second tracks of "A Monument of Chance." After making the live recording--which quite by chance had seen the didjeridoo of Stephen Kent added to the sonic palette of A-TOI--the two returned to the Thermal studio with the raw materials of the show and condensed them into the third track of "Monument." To round out the album, Thermal collaged raw material from the "Eleusinia" performance into a rebuilt version of a performance work by Freezer. "Monument" is the second recorded work in the Archipelago, a conceptual network of individual electronic musician-islands intended to encourage collaboration, cross-pollination, and hybridization.
Following "Monument," Seofon will compile and release a double-CD anthology of A-TOI's recorded work, and Thermal will release the entirely solo "Lost Circuits of Empty Time" album on Boxman, with retrospective issues of M-1 Alternative, Dazzle Painting, and Freezer to follow. Thermal and Seofon continue to work with Vidna Obmana and others on long-term project of mutual sonic recycling, soon to be solidified on CD.
---
thermal and seofon, aka joshua maremont and jeff kihn respectively, take part in what they deem "sonic recycling." this collaboration's release of orchestrated experimentation is made up of two rebuilt versions of their first live performance, (which was surprisingly thermal and seofon's initial collaboration), and two in-studio recordings. the duo expands the potential of empty warehouse spaces and factory noise, combining those sounds with intricate drum patterns and beautifully dark eastern sounds. "a toy ascending from the tidal current mixture" is hypnotically intense, roaring and swirling over its own pulsating rhythms, whereas "ouster swarm" begins with a machine drone ambience that develops into a worldly, noisy, beat-infused, eerie track. an excellent release of sonic exploration and re-manipulation.
xlr8r no. 38, kathleen maloney